Terahertz imager
The Terahertz imager T-SENSE ® visualizes enclosed hazardous substances precisely in letters as well as small parcels safely and effectively.
The process is safe, fast and without risk to the health of the user. Unlike conventional visualizing processes such as x-ray technology, the T-SENSE ® functions on the lower Terahertz frequency level with safe millimeter waves that enable non-transparent materials to be illuminated.
The T-SENSE ® rapidly visualizes the objects to be examined  and makes potentially dangerous contents visible. Since the device is highly sensitive, it even recognizes powders and adhesives.
Simple and intuitive application permits the device to be used with easy instructions. The scanning procedure shows a picture that is checked and analyzed by the user. The T-SENSE ® can be used anywhere, from the office to large postal centers. In combination with the T-COGNITION ® , the material recognized in the suspicious item can also be identified.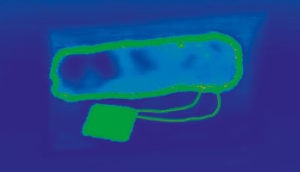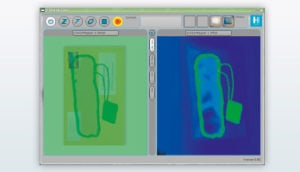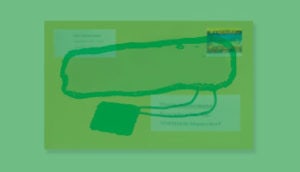 Safety for health and work
There is no health risk with the T-SENSE ®. Therefore, the safety precautions that are often necessary with conventional devices are not needed. The capacity of the shielded THz waves emitted by the T-SENSE ® is approximately 500 times lower than the capacity of standard mobile phones and outside the casing, the waves are barely detectable.
User-friendly
The T-SENSE ® can be used immediately after startup. Thanks to the easy-to-understand and intuitive operation, the user can be instructed easily and quickly. It is not necessary to hold long staff seminars for this purpose. The three modes Constant Operation, Individual Control and Forward/Repeat, as well as the pleasant user interface, make the device optimal for every situation. The output log can be varied for individual customer requirements.
Fast, mobile and flexible
The T-SENSE ® permits quick scanning of letters and parcels in order to control for dangerous contents. Based on the lightweight and the small dimension the T-SENSE ® can be handle easy, only a mains connection is necessary. The device is modular in its construction and can therefore be adapted to specific customer requirements.
Workload capacity (Value for standard resolution):
Envelopes per hour C4:
1000
Envelopes per hour C5:
2000
Envelopes per hour C6 (DL):
3000
Electricity supply and surroundings:
Voltage:
100 – 230 VAC
Frequency:
50 – 60 Hz
Ideal operating temperature:
10 – 45 °C
Power draw:
< 100 Watt
Dimensions and weight:
Height
67 cm
Width footprint:
58 cm
Depth footprint:
64 cm
Depth incl. Bands:
136 cm
Weight:
100 kg
Maximum dimensions of scanned object:
Width:
275 mm
Height:
50 mm